The Ninjas
People. It's the people that make the difference. Whether dealing with a Fortune 500 client or a local small business (like us!), a project's success always come back to the people involved. Edge Webware is blessed to have not only a highly talented and skilled group of dedicated and professional employees and contractors, but also a group of people who are friendly, personable, and honest.
Oftentimes in business project stakeholders' focus is overwhelmingly on the technical qualifications of a team while the qualifications related to character are frequently minimized or even ignored. Yet, it is our firm belief that working with us should be a blessing to our clients in terms of both your resultant success and in the peace of mind and enjoyment we all share while we work together.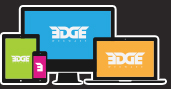 So why "ninjas?" Ninjas are a highly skilled, disciplined, resourceful, and dedicated lot. Ninjas solve complex problems on the fly and with expert precision. In a word, ninjas win.
How will we win for you? Our adept team of designers and developers has numerous years in Web design and Web/App development. Since our inception, our clients' challenges have led us to cover the spectrum in the Web, mobile, and desktop programming world. We have delivered repeatedly, because of our breadth and depth of expertise and our ability to understand our clients' needs.
Contact us today to find out more about how our team can help your team accomplish all of your Web and interactive goals!